The Teal Pumpkin Project raises awareness for food allergies for trick-or-treaters.
No child should feel left out of Halloween due to a food allergy.
Growing up with a milk & red food dye allergy more than half of my treats growing up had to be given away. Most people do not realize that chocolate, especially bulk chocolate, has added red dye to make the right shade of brown. Most Halloween candies are also orange, which uses a large amount of red dye.
As the years have grown a lot of great companies like YumEarth, Smashmallow & Unreal Candy have made large strides in the candy industry.  Using real ingredients, and options for those with allergies.
However, not all trick-or-treaters can have candies.  The Teal Pumpkin Project instead provides the idea of non-food related treats.
**Remember to click for more info!**
And my favorite Teal Pumpkin Project treat, "Toothbrushes"…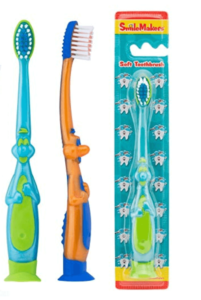 Tell me, which treats will you be giving to your trick-or-treaters?